3D + 360 Fungi Photogrammetry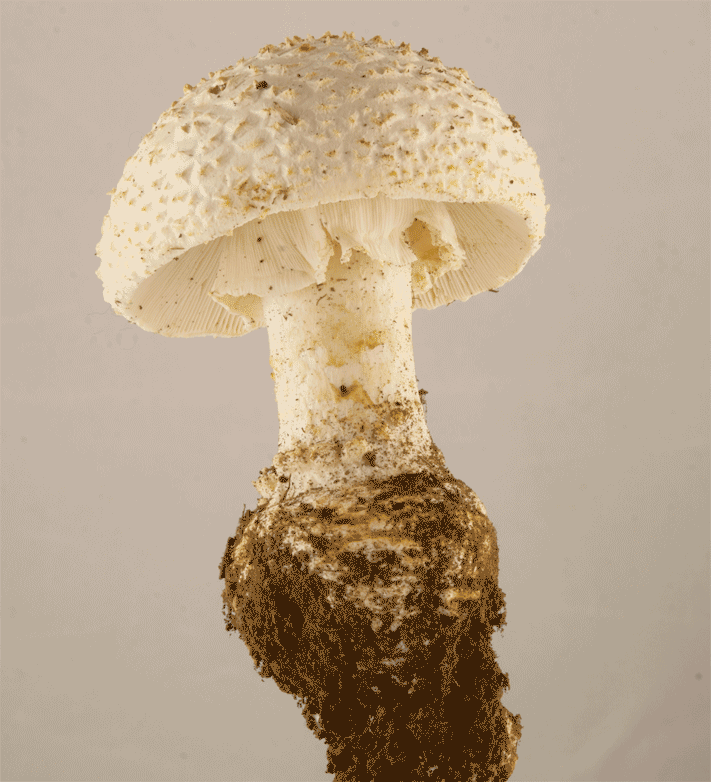 For the last few months I've been on a bit of a learning curve with photogrammetry! The aim is to be able to document fungi as 3D images for research, education and artistic purposes. I think it would be fantastic to be able to have an online 3D fungi collection available on the internet where citizen scientists and researchers can handle fungi digitally using either a mouse, or VR system - being able to see more details of the mushroom, rather than in it's dried state, or in a single photograph.
In the future, I can imagine being inside a 3D virtual enviroment on the Internet, handling fungi from all over the world, perhaps in their simulated natural environment and being able to download and print them for study offline. Whohat a great learning environment! Granted, not as good as the real thing, but hey, if you can't get to South American jungle to view their fungi, maybe this could be a great alternative.
The images featured here are not 3D - they are merely 360 degree images of fungi created from some of the image series being used to create the 3D models. I've got a couple of sub-standard 3D fungi images so far which are ok, https://sketchfab.com/franklinhermit but they need more work. There is a lot of trial and error involved in the 3D side of things - getting the right backgrounds, even lighting, error-free images (including stacking images if in macro), and having the fungi in season are just some of the variables involved! More generally, 3D capture of objects is dependent on the type of object it is - example shiny objects often need preparation with flour or spraying with something to help the photogrammetry software to map the model.
To create a 3D image of a fungi, a complete circle of photographs need to be taken from the top looking down, from mid-height and from a low angle - you need to capture all angles so that the mushroom can be viewed from all angles. A minimum of araound 12 images at each height, plus additionals - around 50 images at a minimum - depending on complexity of the fungi being photographed. You also need to make sure that each image, as you go around the fungus, overlaps by approximately one third, so that the photogrammetry software can map your fungi properly against the background. Highly detailed, non-repeating backgrounds are best. People use mobile cameras, or digital SLR cameras with either macro or other lenses - really depends on the subject. The more information in your image the better though, for the end result. Higher detailed subjects would do well with higher resolution captures. All images must be well lit, with minimum of shadows. Therefore, if shooting outside, an overcast day is ideal, or inside, requires even lighting - a basic 2 or 3 light studio can easily do the job. Also, there is no leeway for out of focus images! All images MUST be in perfect focus for the software or you'll get smeared results, if at all. Therefore if depth of field is small, stacking of several images into one image, for each of the 50+ images will be required in order to ensure focus throughout the image. Here, patience is key!
Images are then imported into the chosen photogrammetry software for rendering. I am currently using 3DZephyr Free - as it's free, but it is limited to 50 photos. You can purchase Agisoft or 3D Zephyr for around $250AUD - there are other programs out there too. Agrisoft is used by a fantastic cultural imaging organisation in the US and I believe that is what I will eventually use once I master the basics. Being restricted to 50 images is hard, but not impossible and it certainly makes you disciplined in your photography!
To print a 3D model of the fungi, it needs to be edited so it prints properly using a program such as Meshmixer. Filling in holes, scaling and if needed a plinth, so the mushroom can be supported for display. At the moment this is just a preliminary post, more detailed information will be documented as I move through the process.
There is not a lot of information available on 3D photogrammetry of fungi so it's kind of new territory, there is one person doing a fantastic job on SketchFab https://sketchfab.com/optimuscan and I can only hope to produce the results this person is obtaining! They are shooting 160 to 400 pictures per model using a 24Mb camera, macro lense and software called Reality Capture. If you want to make a big collection they recommend automating all the boring stuff, using Python as it can be seriously way too repetitive. Even so, the results are amazing and I think this is where the future of fungi photography is heading. I am very excited and looking forward to gettng some great 3D fungi, it will be a challenge getting fresh specimens sometimes so I am also making clay models to practise with :)
Some useful links:
Photogrammetry Course at YouTube - https://youtu.be/_mOG_lpPnpY
Automating Free Photogrammetry Software - https://peterfalkingham.com/2017/08/14/automating-free-photogrammetry-scripts-i-use/
Tutorial: Using Free Photogrammetry Software - https://sketchfab.com/blogs/community/tutorial-using-free-photogrammetry-software/
#tasmanianfungi #photogrammetry #fungi #mushrooms #digitisation